DFTS Services Power Government
DFTS offers three service options each with three tiers of service for each service option based on the speed of the desired pickup covering the 48 continental states along with Alaska and Canada.
The benefits of DFTS include:
Fixed rates
Mandatory contract discounts and process improvements
FAR based performance metrics
Large carrier network
Regionalized on-site support structure
100% GSA audit on ALL transactions
Easy onboarding for new Federal Agencies
Built in TMS functionality for easy ordering of DFTS services
Watch this video to learn more about our LNG investment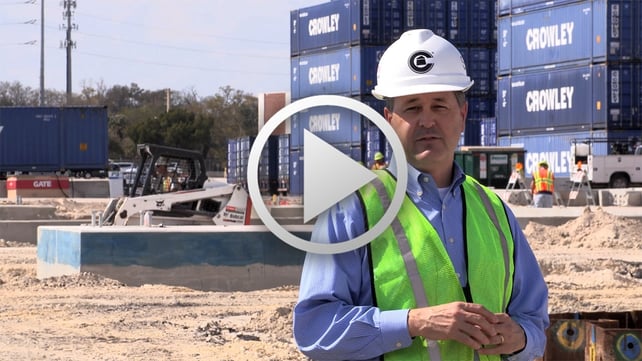 Service Options (Listed as bubble pictures)
Less Than Truckload
At Crowley we understand LTL shipment complexities whether you ship a single pallet or large quantities of freight. With Crowley's extensive LTL carrier network and LTL volumes Crowley can save our customers time and money through by leveraging our overall resources. Allow Crowley to show you a better LTL experience with a better service and cost savings.
Truckload
Crowley offers full truckload shipping services to meet our customers needs. With our extensive carrier network of over 10,000 carriers and expansive reach across the 48 continental United States, Canada and Mexico Crowley can meet any full truckload requirement our customers have.
A list of full truckload services include:
FTL
Drayage
Reefer and temperature Controlled
Transload – Cross-dock
Hazardous materials (HAZMAT)
Multiple Pickup – Multiple Stop
Power Only
Trailer Drop
Cross Border
Time Definite
When time is extremely important and no other service option meets your needs Crowley can provide a time definite service option. This service provides our customer with a delivery based on a particular day rather than a service type providing more flexibility for customer needing to get their shipments to destination on time. Count on Crowley as your single location for time dependent shipment that require special attention.
Specialized
For over-dimensional, open deck and heavy haul freight Crowley has the expertise and carrier network to handle the most complicated moves. With over 125 years in business Crowley has a long history of coordinating and moving specialized freight. For your next specialized move allow Crowley to show
A list of full truckload services include: